MENOG 15 conference takes place from 1-2 April 2015 at the Park Hyatt Dubai.
Located at the Dubai Creek Golf and Yacht Club, Park Hyatt Dubai is at the crossroads of key routes through the bustling Arabian city of Dubai. The city centre, prime banking and business districts, as well as numerous parks and beaches are just minutes away from the luxury Deira resort. Park Hyatt Dubai is just five minutes away from Dubai Airport.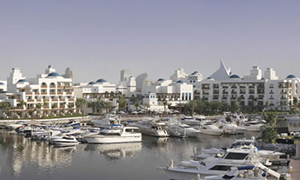 PO Box 2822
Dubai, United Arab Emirates,
Tel: +971 4 602 1234
Fax: +971 4 602 1235
Hotel fact sheet
Location and Directions
Alternative hotels for accommodation:
Park Hyatt Dubai can arrange transit or tourist visas for a processing fee of 300 AED per person.
In order to process the visa, they require the following details and requirements:
Electronically scanned coloured copies of passports are required for clarity and ease of processing. The document size should be less than 30 kilo byte and the passport should have at least 6 months of remaining validity.
Digital coloured passport size picture in JPG or GIF format, not older than 6 months, not larger than 40 kilo byte (i.e. coloured standard passport picture or ID picture)
The application for visa will be forwarded to the immigration department upon completion of requirements maximum 7 days prior to the arrival. The visa process takes 4-5 working days excluding Friday, Saturday, and Public Holiday.
Please note that visa approval is subject to the Dubai Immigration Department and visa charges are non-refundable in case of cancellation, rejection or no show. The visa issued will be valid for a single entry only and not a multiple entry visa.
The visa is valid for flight arrivals to Dubai Airport only.