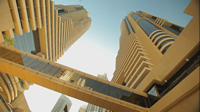 MENOG 14 takes place from 23 March – 1 April 2014 at the Grosvenor House in the heart of Dubai Marina
The hotel is situated in an ideal location close to the city centre and within easy reach of business and leisure facilities, making it convenient to explore local attractions such as the Dubai Internet City, Dubai Media City, Jebel Ali Free Zone, Emirates Golf Club, Montgomerie Golf Club, and Mall of the Emirates.
Room rate:
Deluxe Room, single or double: AED 1,300
Please note that this rate excludes:
A 10% municipality tax
A 10% service charge
Guests also have unlimited access to the Grosvenor House's sister hotel, Le Royal Méridien Beach Resort & Spa, which offers beach access and 13 additional restaurants and bars.
The deadline for reserving guest rooms is Friday, 28 February 2014.
Reserve a room at Grosvenor House
Map

View Grosvenor House Dubai in a larger map
Visa assistance:
The hotel can help arrange entry visas at a cost of AED 300 per visa application. Please ensure the hotel receives the following at least ten days prior to your arrival date: a clear, colour copy of your passport, personal photographs, and the visa application forms (provided by the hotel).