MENOG 13 takes place from 15-24 September 2013 at the JW Marriott Hotel, Kuwait.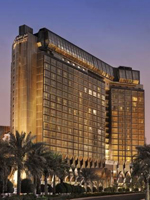 The JW Marriott is located in the heart of Kuwait City and is within walking distance of the commercial and financial districts, ministries and traditional souks. It is connected to the prestigious Al Salhiya shopping and business complexes.
Room rate:
Deluxe Room Single – KD 85
Deluxe Room Double Twin – KD 101
Cut-off date of blocking guest rooms: Thursday, 5 September
Including:
Complimentary Buffet Breakfast in La Brasserie Restaurant
Complimentary access to Internet in guest rooms
Complimentary fruit basket in the room
Complimentary access to health club and outdoor pool
Complimentary transportation between airport and hotel
The hotel can arrange visas upon receipt of clear copies of the official pages of the guest's passport. Visa processing takes approximately six working days and is subject to government approval. A visa fee of KD 8 will be levied irrespective of nationality.
Map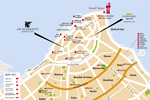 Find Points of Interest