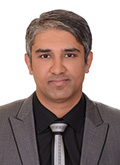 Fahd Batayneh joined ICANN in October 2013, and currently occupies the position of Stakeholder Engagement Manager for the Middle East. Prior to ICANN, he held several positions within Jordan's National IT Center (NITC) last of which was managing the ccTLD and IDN ccTLD of Jordan. Fahd has attended ICANN meetings on a regular basis since 2008, and was active in several working groups.
Outside of his day job with the government of Jordan, Fahd has provided many consultancies related to Internet governance, new gTLDs, and Internet policies.
Fahd holds a B.Sc. in Computer Engineering with honors, and an MBA. He is married and has two sons. He is based in Amman, Jordan.