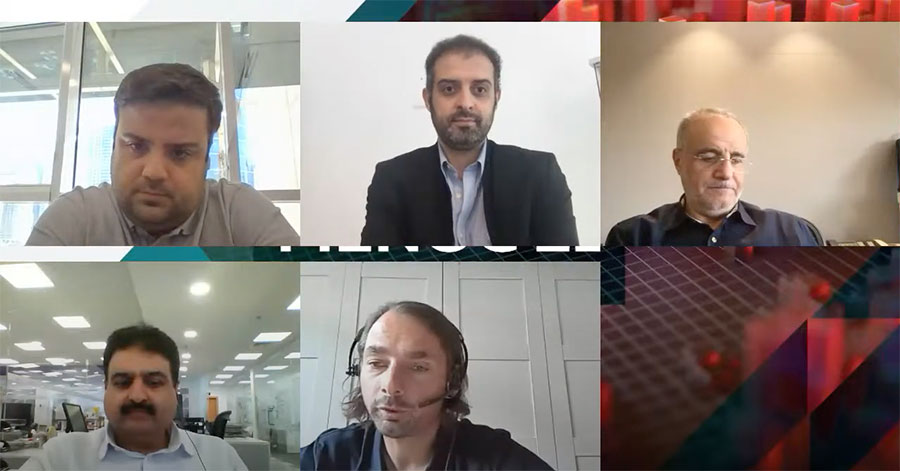 The MENOG 21/RIPE NCC Regional Meeting took place on 26 October 2021. The meeting was hosted by the RIPE NCC. With 314 people registered to attend, we saw 117 of those from 27 different countries join the meeting on Meetecho.
The meeting was opened by Hisham Ibrahim, RIPE NCC Chief Community Officer, who welcomed attendees. He spoke briefly about the importance of the Internet community staying connected and how this motivated MENOG 21. He then opened the floor for the panel discussion.
The first speaker was Anwar Chalamannil, Head of Network and Security Operations on the FIFA 2022 Supreme Committee, who spoke about the technical preparations for the upcoming World Cup hosted in Doha, Qatar. He described how FIFA and the Qatari government are collaborating to design a centralised network to handle the increased traffic caused by the event. This network will have two main data centres to which all stadia for the event will be connected. He also mentioned other technical considerations, such as the need for a number of temporary IPv4 addresses due to the usage of legacy equipment.
Up next, Shahab Vahabzadeh, Chief Technology Officer at Qbic Communications, discussed traffic flows in the Middle East and CIS countries. He noted how providers frequently direct traffic to places such as Sofia and Frankfurt rather than to CIS countries and how these providers also typically build hubs outside of the CIS region. He also noted how online gaming is one significant source of traffic from particular parts of the Middle East but that even that traffic is often routed to centres in Europe. Therefore, he raised the question of how to enable providers to change these flows and strengthen infrastructure in the region.
Following this discussion, Imad Kreidieh, Chairman and Director General of OGERO, gave an update on OGERO's efforts to ensure that they maintain Lebanon's Internet connectivity to the rest of the world despite the crises affecting the country since October 2019. He shared that OGERO's lack of access to foreign currency was hindering its fibre development and other technological projects. Lack of access to diesel is also an issue for OGERO, but they are working on procuring renewable energy technologies as an alternative. While handling these current challenges, OGERO is also preparing for improvements such as developing a national data centre hosted on the cloud.
Next, Bernd Spiess, Senior Peering Manager and Consultant at DE-CIX, spoke about recent deployments in measurement infrastructure at UAE-IX, an IXP in Dubai. He explained the importance of peering in reducing latency. On the topic of useful tools, he recommended the use of Atlas anchor probes for testing different aspects of the network. He also suggested using several different measurements from RIPE RIS. Overall, he encouraged employing a variety of tools and also peering locally with root DNS systems.
This was followed by Nathalie Trenamen, Routing Security Programme Manager at the RIPE NCC, who gave an update on RPKI. She noted how typos and similar errors are common when using BGP but can have serious consequences. Therefore, she recommended the use of ROAs, statements of routing intentions, to help prevent these situations. She noted that different countries have different approaches to ROAs, with some having almost 90% ROA coverage of IP addresses and some as little as 10%. She encouraged more ROA usage and shared a new Telegram channel, Routing Security Middle East, for network operators to share advice.
Continuing the topic of routing security, Atif Naveed, Senior ISP Engineer at STC Bahrain, added that it was important to be aware of the tools needed for this task. He mentioned that he and his team use multiple IRR filters and Cloudflare to stay updated. He shared some tips for how to protect different sizes of IP address allocations and also recommended the use of ROAs. Finally, he mentioned the importance of being familiar with what RIPE route objects you will be using.
After this panel discussion, there was a Q&A session in which audience members raised several questions for different panellists to answer. These included questions about the higher cost of building networks in the Middle East, how the MANRS initiative from ISOC will help routing security, and how long OGERO in Lebanon will be able to maintain services should the country's crises continue.
Following these questions, Dr. Ali Nasser Al-Khoieldi, former CEO of the Communications and Media Commission in Iraq, announced the creation of Iraq NOG in collaboration with the RIPE NCC.
Wrapping up the meeting, Hisham thanked everyone for attending and expressed hope for a physical meeting next year. He invited attendees to share feedback and any further questions after the meeting.
The meeting presentations were given in English, and live translation into Arabic was available through Meetecho. Recordings of the meeting are available in the meeting archives and on the MENOG YouTube Channel.
Thank you to all who attended the meeting and to our speakers for presenting.
Save the date for MENOG 22, which will take place in Manama, Bahrain in the second half of 2022!