Global Internet and communications experts gather for five days of knowledge sharing and network building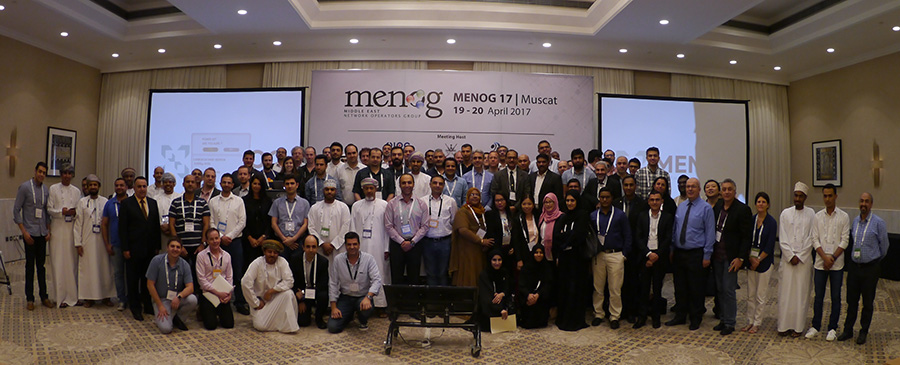 April 30, 2017: The 17th Middle East Network Operators Group (MENOG) conference recently ended on a high note in Muscat, Oman, with international participants tackling the most pressing issues facing the Internet and communications industry today. This regional forum brought together 210 key players in the region's Internet network operations (along with 460 remote participants) for two meeting days on 19 & 20 April 2107 in Muscat centered around sharing knowledge and expertise.
A range of Industry leaders and key stakeholders attended, including high-level representatives from organisations such as the Oman Telecommunications Regulatory Authority (TRA), Omantel, Ooredoo, Du, Batelco, Jawwal, OGERO, RIPE NCC, Netflix, GSMA, ICANN, ISOC, ASREN, ARISPA, Google, Akamai technologies, Cloudflare, Huawei and Sultan Qaboos University and Higher College of Technology.
TRA Executive President, His Excellency Dr. Hamed bin Salim Al Rawahi, said: "The higher level of discussion during the conference brought new perspectives and learning for all the participants. Valuable opportunities were brought to the fore and challenges were tackled head on. For us at Oman TRA, we took the opportunity to shed light on the country's achievements in the field of Internet and communications as well as our approach to modernise our Internet infrastructure, processes, and system in support of our digital transformation initiatives. Rest assured that we will take in consideration what we have learned from the conference to boost related efforts."
For Paul Rendek, Director of External Relations, RIPE NCC (Réseaux IP Européens – Network Coordination Center): "We witnessed network operators, vendors, Internet service providers (ISPs), research communities and government representatives looking for new areas for regional cooperation, in addition to examining innovative business models and applications. All these efforts are a welcome development given the need to ensure the region keeps up with the latest dramatic digital changes."
Renowned experts led three days of IPv6 and DNSSEC workshops ahead of the two day MENOG conference. Areas discussed at the conference included IPv6 deployment in response to global IPv4 depletion, and the need for Internet exchange points (IXPs) to keep local traffic in the region to reduce latency and costs.