Sandra Gijzen is the External Relations Officer – Dubai Office Manager at the RIPE Network Coordination Centre (RIPE NCC). Originally from the Netherlands and based at the RIPE NCC office in Dubai.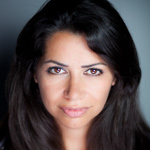 Sandra Gijzen provides overall support to RIPE NCC External Relations activities as outlined in the annual RIPE NCC Activity Plan. In particular the Middle East region such as the preparation of Middle East Network Operators Group (MENOG), RIPE NCC Regional Meetings, Arab Internet Governance Forums (IGFs), Member lunches, Roundtable Meetings, and Middle East IPv6 Roadshows. She also provides support for Central Asia and other RIPE NCC activities in the region.
A long time employee of the RIPE NCC, Sandra has held several different positions in the organisation over the last 20 years. Sandra Gijzen is part of the Middle East Network Operators Group (MENOG) Team and helped establish the success of MENOG by coordinating the first ever meeting, MENOG 1, held in Bahrain in April 2007.  MENOG offers a great opportunity to network with colleagues sharing experiences and knowledge, presenting and discussing latest networking innovations and discover new business models and applications. It is a highly selective meeting attended by experts and interested people from industry, academia and government.