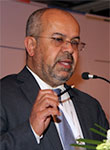 For the last 25 years, Yousef Torman has been working in ICT at highly reputable institutions in the higher education and scientific research sector. His main focus throughout his career has been to make use of technology, mainly ICT, for the development and enhancement of the lives of people in his community and beyond.
In 1989, Yousef started work as Engineer at the Computer Center of Jordan University for Science and Technology before going on to successfully establish and manage the New Computer and Information Center at the Jordan University of Science and Technology in 1999 (serving around 16,000 students, 3,500 faculty and staff members).
In 2005, he established and managed the Jordanian National Research and Education Network (serving 11 Universities with more than 250,000 students and 25,000 faculty and staff members). In 2012, Yousef played a prominent role in a set of initiatives aimed at establishing a Pan Arab regional e-Infrastructure for education in scientific research for more than 5 years.
These efforts culminated in the formation of the Arab States Research and Education Network – ASREN – for which Yousef is currently the Managing Director (hoping to serve hundreds of Universities in the Arab Region).