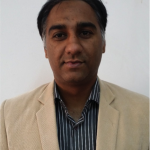 Expertise: Computer Networks, Network Security, Routing in Mobile Ad-Hoc Networks (MANET), IPv6, Wireless Networks, Internet of Things applications.
Tauqeer is a Senior Lecturer in Department of IT-Networking in Higher College of Technology (HCT), Muscat, Oman as well as Instructor in regional CISCO Academy Support Center, Oman. His experience spans the networking domain in academic from routing, switching, protocols of various wireless and security appliances.
Tauqeer is a global member of Internet Society Club (ISOC) and also chapter member of Malaysia and Pakistan under ISOC. He is actively member of Omani Society for Educational Technology (OSET) in Sultan Qaboos University (SQU), Muscat, Oman. Tauqeer is also the part of RACI (RIPE Academic Cooperation Initiative) for his academics research work.
Research is a systematic investigation of new trends in technology through academics in order to establish real facts. In this perspective, Tauqeer is doing research in routing issues of emerging wireless networks especially in Cognitive Radio Ad-Hoc Networks (CRAHNs), issues of IPv6 and the implementation of Multipath TCP (MPTCP) in telecommunication industry.