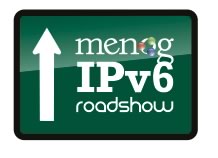 The IPv6 Roadshows are a joint initiative from the Middle East Network Operators Group (MENOG) and the RIPE NCC, offering three day event targeted at government and enterprise network operators.
Host an IPv6 Roadshow Event
A MENOG IPv6 Roadshow event is a standalone workshop, separate from MENOG Meetings and hosted by a government or enterprise organisation. Each event runs for either three or five days, and while the MENOG and the RIPE NCC provide the trainers and equipment, we rely on local hosts to attract attendees and provide a suitable venue.
By hosting one of these events, you will be helping to ensure the sustainable growth of the Internet in your country and in the region. Hosting a MENOG IPv6 Roadshow event is also an opportunity for you to showcase your organisation and be at the forefront of IPv6 deployment.
Download the Lab Configuration files (zip)
Upcoming IPv6 Roadshows:
Kuwait City, Kuwait 11-13 April 2016
Riyadh, Saudi Arabia, 2-4 May 2016
Doha, Qatar 16-18 May 2016

Previous IPv6 Roadshows:
Dubai, UAE 15-17 February 2016
Manama, Bahrain 25-27 January 2016
Beirut, Lebanon, 2-4 November 2015
Dubai, UAE, 7-9 September 2015
Riyadh, Saudi Arabia 4-6 May 2015
Dubai, UAE 26-30 April (Train the Trainer, participants representing 4 ME countries)
Amman, Jordan 3-5 May 2015 (dedicated for Yemen service providers)
Al Khobar, Saudi Arabia 17-19 November 2014
Manama, Bahrain 12-15 October 2014
Dubai, UAE  7-11 September 2014
Doha, Qatar 26-28 May 2014
Riyadh, Saudi Arabia 19-21 May 2014
Ramallah, Palestine 11-13 March 2014
Dubai, UAE  2-6 February 2014
Amman, Jordan 17-21 November 2013
Manama, Bahrain 25-27 November 2013
Riyadh, Saudi Arabia 4-6 November 2013
Dubai, UAE 8-12 September 2013
Riyadh, Saudi, 5-7 May 2013
Dubai, UAE 24-28 March 2013
Beirut, Lebanon, 18-20 December 2012
Riyadh, Saudi Arabia, 18-20 November 2012
Manama, Bahrain, 18-20 September 2012
Riyadh, Saudi Arabia, 13-15 May 2012
Beirut, Lebanon, 21-25 May 2012
Dubai, UAE, 25-29 March 2012
Jeddah, Saudi Arabia, 3-5 October 2011
Dubai, UAE, 24-28 July 2011
Al-Khobar, Saudi Arabia, 15-18 May 2011
Ramallah, Palestine, 17-21 April 2011
Amman, Jordan, 3-7 April 2011
Damascus, Syria, 23-27 January 2011