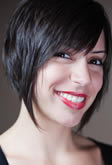 Sandra Brás has worked as a Trainer at the RIPE NCC since March 2008.
In this role, Sandra delivers face-to-face training courses on topics such as IPv6 and Routing Registry throughout Europe, the Middle East and Central Asia.
Sandra holds a Master's degree in Training and Technology for Education from the University of Coimbra, Portugal, and is now continuing her studies in the area of E-Learning.
Before joining the RIPE NCC Sandra participated in an Internship Programme for Graduates at the European Commission. Between 2004 and 2007, she was employed by the Portuguese Navy Ministry as a trainer and worked with several organisations as a freelancer in education and training.