Saad Alsalamah is the ICT director of Etihad Atheeb Telecom Company – Go Telecom (second fixed-line and Internet broadband operator in KSA).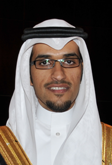 He has IT and network experience in the telecom industry and has developed the data and voice services for Go Telecom.
Saad held previous roles with Go Telecom as well as STC. He started his career as a System Developer in STC, then joined Go Telecom as a Senior Integration Specialist, then he took over the network service department before being assigned as the ICT Director covering both the IT department and the network services.
Saad is PMP certified and also holds multiple technical certificates. He is currently pursuing his eMBA and participating in multiple events related to IPv6, DNS, traffic management and cloud computing.