Philippe Regnauld is co-owner and senior consultant at bluepipe a/s, a small company specialized in development, network services, monitoring and DNS.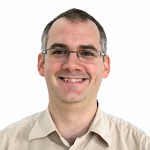 Phil is currently a member of the AFNIC's Technical Advisory Committee. As a part of his activities, Phil collaborates with Network Startup Resource Center (NSRC), helping with workshop planning, material development, and teaching.
Since 1997, Phil has been participating in workshops around the world, including INET Workshops, AfNOG, PacNOG, ccTLD trainings, and few other events in Asia and Africa. Phil holds a bachelor degree of Computer Science from Université Paris V.
Before founding bluepipe, Phil was a system and netwoks administrator for the Copenhagen Kingdom Hospital. Since then he has designed large-scale DNS and mail architectures for organizationg in the Danish private and public sectors (healthcare, pharmaceutical and ISPs), and participates in a number of open forums and advisory committees for TLD administrators.