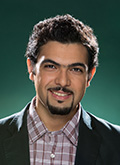 Senior Security Researcher, Global Research & Analysis Team
Mohammad Amin Hasbini joined Kaspersky Lab in 2013 as a Senior Security Researcher in the Global Research & Analysis Team (GReAT). Amin is responsible for Kaspersky's expert positioning in the Middle East, Turkey and Africa, as well as research development and knowledge support of the regional office in Dubai, UAE.
Prior to joining Kaspersky Lab, Amin was a Senior Security and Privacy Consultant at Deloitte & Touche ME and before that a Security Engineer at DataConsult Lebanon. Amin lead many infrastructure, security consulting and penetration testing projects for government entities, banks and service providers especially in the Middle East and the GCC region. He is also a trainer for information security courses, like forensics and malware analysis, EC-Council Ethical Hacker, and Cisco CCNA Security.
Amin is specialised in cyber threat intelligence and targeted attacks mitigation. He has a professional masters degree in Security of Networks and Systems (Saint-Joseph University, Lebanon), and is working on his PhD at Brunel University London. He also holds various certifications from GIAC, EC-COUNCIL, CISCO, EMC RSA, Harvard Business Publishing, and British Standards Institution.