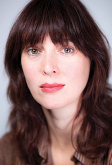 Mirjam Kühne has joined the RIPE NCC in 2009 to set up RIPE Labs and to act as the Community Builder for RIPE Labs.
Prior to joining the RIPE NCC, Mirjam worked at ISOC for six years as Senior Program Manager. She was responsible for developing and organising technical workshops in developing countries and establishing and maintaining relationships with partner organisations and regional and local operators communities. Mirjam also created the IETF Journal, a publication reporting from developments at the IETF, and had the editorial oversight over this publication for the last five years.
Before taking the job at ISOC, Mirjam worked for nine years at the RIPE NCC, as part of the senior management and participated in the organisation's strategic and financial planning. She was responsible for External Relations and represented the organisation on an international level. Before that Mirjam was responsible for developing and managing membership as well as public services. She started her career at the RIPE NCC by reviewing and processing member's IP address requests requiring a deep understanding of network operations and technology.
Mirjam has obtained a Masters of Computer Science at the Technical University Berlin, Germany.