Matt Parker is an IP Resource Analyst and Trainer at the RIPE Network Coordination Centre (RIPE NCC).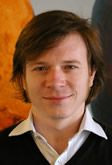 Matt graduated from the Universities of Wolverhampton, Helsinki and Amsterdam with a BA Honours degree in European Business Administration.
Before joining the RIPE NCC in 2010, Matt was employed at both Cisco Systems and British Telecom where his main fields of expertise were network support and acquisition integration.
As an IP Resource Analyst at the RIPE NCC, his main responsibilities are ensuring that Internet number resources are distributed according to the policy developed by the RIPE community. In his role as Trainer, Matt is committed to raising awareness of IPv6 and promoting its deployment throughout the RIPE NCC service region.