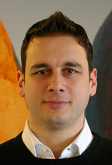 Emilio Madaio works in the Policy Development Office (PDO) of the RIPE Network Coordination Centre (RIPE NCC).
Prior to his position at the RIPE NCC, Emilio worked in the Internet industry for an Internet Exchange Point (IXP) and a research and education network centre.
Emilio holds a degree in telecommunication engineering from University La Sapienza in Rome, Italy.