Hisham Aboulyazed (هشام أبو اليزيد) is Senior Manager for Internet Governance and WSIS Affairs at the National Telecommunication Regulatory Authority in Egypt (NTRA), and Senior Coordinator of the Arab Internet Governance Forum (Arab IGF). He is also a founding member of Internet Masr (NGO) and ISOC Egypt Chapter.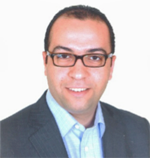 With more than 10 years of experience in ICT policy and cyber-diplomacy, he is responsible for Internet Governance strategies and WSIS-related policies, including NTRA's engagement in Internet Governance deliberations at the United Nations IGF, the Commission on Science and Technology for Development (CSTD), and the International Telecommunication Union (ITU). Before that he served as Unit Manager for ITU Affairs at NTRA since May 2006, where he led NTRA's ITU engagement strategy, and participated in all major ITU conferences and meetings during that period.
In 2007 Hisham was appointed by ITU as Vice-Chairman of the Expert Group on International Telecommunication Regulations (ITRs), and afterwards in 2009 he was appointed as Vice-Chairman of the Working Group on the World Conference on International Communication (WCIT). He first joined NTRA as Radio Spectrum Planning Engineer in 2002.
Hisham received a Bachelor Degree in Electronics and Communications Engineering from Ain-Shams University in 2000.