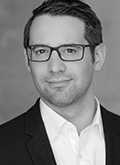 Since June 2014, Christoph Dietzel has been a member of the DE-CIX Research and Development Team and is responsible for several research efforts. He is also involved in numerous projects funded by the public sector (EU, German Federal Ministries).
Chris is a PhD student in the INET group, advised by Anja Feldmann at Technische Universität Berlin since the end of 2014. His ongoing research interests focus on Internet measurements and security, routing, and traffic classification.
Chris is also highly interested in IXP-related aspects of the Internet ecosystem. Prior to his work at DE-CIX and his PhD studies, he received BSc and MSc degrees in computer science from the Darmstadt University of Applied Sciences.
Alongside his studies, the Fraunhofer Institute for Secure Information Technology (SIT) and Center for Advanced Security Research Darmstadt (CASED) employed Chris as a student research assistant. In 2013, Chris was granted a scholarship to conduct research and study at the University of Massachusetts (USA). In cooperation with Siemens CERT, he worked on dynamic malware analysis for Android in fulfillment of his master's thesis.