Andrew de la Haye is the Chief Operations Officer (COO) of the RIPE Network Coordination Centre (RIPE NCC).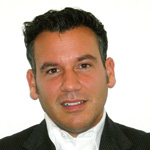 Andrew graduated from the University of Amsterdam, The Netherlands, with Masters Degrees in Business Administration and Strategic Management & Organisation.
Before joining the RIPE NCC in 2006, Andrew was employed at KPMG Strategy Consulting and Accenture Consulting for over 10 years. His
main fields of expertise have been Customer Relationship Management, Business Process Improvement and IT (organisational) strategy.
As COO, his main responsibilities are managing the organisation's core operations (Member Services) and supporting software development. In addition, Andrew is a driving force behind the development of the RIPE NCC's long-term strategy to ensure that it continues to meet the membership's needs and is prepared for future developments.