Alan Horne was appointed as the General Director of the Telecommunications Regulatory Authority (TRA) in Bahrain in March 2007 by Royal Decree 35 of 2007.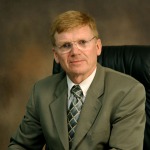 Alan's career has spanned just over 40 years starting with 12 years at BT, 2 years with Phillips (where he headed the Software Development team for Private Systems) and 3 years as Director of European Product Management at Mitel Networks. Alan has a First Class Honours in Electronic Engineering and a Masters in Telecommunications. He is a Member of the Institute of Directors (IOD) and Institute of Electrical Engineers (IEE) and Communications Managers Association (CMA).
In 1984, Alan established InterConnect Communications Ltd as a consulting company specialising in regulations covering television, radio, telecommunications and wireless communication services. In 2001, he led the sale of InterConnect to Telcordia Technologies of the USA.
Alan's expertise encompasses all aspects of communications and information systems from regulation and policy through to interconnection and approvals. He has secured and managed assignments in more than 20 countries in the EMEA region. He has led major EC funded regulatory projects assisting the accession countries in approximating their telecommunications laws to those of the EU. He has considerable experience in such aspects as developing policy, licensing, acquisitions, investment decisions and all aspects of regulation.
During his career he has also played an active role representing major enterprises at the European Telecommunications Standards Institute (ETSI), on the European Telecommunications Platform (ETP) group and the European Competitive Telecommunications Association (ECTA). Faced with with increased carrier competition in Europe, the Middle East and Africa, Alan has spent a significant time in assisting operators and regulators on competition, convergence and security matters.
In 2004 –2005, he was permanently resident in Lebanon as project manager of a European Commission funded project to assist with the establishment of an independent regulator for the telecommunications sector.
Alan has regularly organised, chaired and spoken at major telecommunications conferences run by such organisations as IIR, IBC, ITU and InterConnect/Eurostrategies. He is the co-author of a number of publications covering such matters as approvals of telecommunication equipment and regulatory principles.
Alan Horne is the President of the Arab Regulators Network, which is currently under TRA Bahrain's presidency term (2007 – 2008).