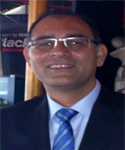 Aditya is a technology evangelist, innovator and a seasoned telecommunications professional with a background in planning, design, implementation and operations of NexGen architectures. Currently, Aditya is part of a technical team for one of the leading networking hardware manufacturers, Cisco Systems. Aditya holds an in-depth understanding of advanced services business and has been a key contributor in planning and designing future state architectures as per Cisco Best Practices for some of the key global accounts.
In his current position as Advanced Services Solution Architect and Migration Practice Lead, Aditya is responsible for leading fast paced development, deployment and delivery of innovative, customer focused services and solutions for clients across the globe. PT Telkom, Spirit Communications, Elisa, Netflix and Google are some of the clients with which Aditya is currently involved. Aditya is a notable contributor to Advanced Services Intellectual Capital and plays a key role in mentoring new talent within Migration Practice at an organizational level.
Prior to his current role, Aditya served in key technical positions within Juniper Professional Services, Tata Communications, Reliance Communications, and SIFY. His experience spans over 13 years in the IT and telecommunication industry. During his career, Aditya achieved the coveted CCIE (#21159) and JNCIP certifications.