Abdullah Alshammari is a domain name researcher and web developer at SaudiNIC (the .sa ccTLD Registry) at CITC.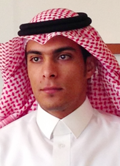 He is experienced in web and mobile development, database development and DNS. As a member of SaudiNIC, he participated in SaudiNIC projects that related to domain names and IDN applications.
In 2010, he completed his BSc in Information System with a second class honors from King Saud University.