Ahmed Abu-Abed is VP of the IPv6 Forum Jordan Chapter and Managing Director of Tamkien Systems in the Middle East which provides last-mile access solutions and migration consulting with a focus on IPv6.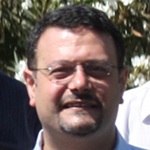 In the Middle East he held previous roles in engineering and sales leadership with Tellabs WiChorus division, Purewave Networks and SR Telecom with a speciality on the 4G/LTE packet core.
While working in Canada he was senior Field Applications Engineer specializing in real-time operating systems and embedded IP protocol implementations helping OEMs embed advanced software solutions in their products. He worked with Enea Data AB, QNX Software Systems (acquired by RIM/Blackberry) and General Electric while supporting OEMs in North America.
Ahmed hold a Masters in Engineering degree from McGill University and a Bachelors in Engineering from Kuwait University and is registered as a Professional Engineer in the Province of Ontario, Canada.